Stories and Pictures
Note: The Cavlary/Gunga Din bugle is no longer available due to the loss of reliable supply.
The Cadet bugle has been replaced by the improved Centennial Bugle.
Have a pictures of members of your troop or pack practicing the bugle or have a story to tell? Then send it to us at support get parental permission first. We will list scouts first name and last initial only along with pack/troop number, city, and state.
WORLD WAR II NAVY BUGLER AND EAGLE SCOUT TELLS ABOUT SOME STORIES, CLICK HERE.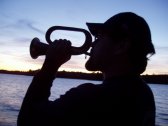 Pvt. Chris B. (F-6) of Pennsylvania-23rd, Birney's Zouaves and also Asst. Leader of Wolf Den - 2, Macungie Cub Pack #71 plays TAPS on his Cavalry model bugle.
This was shot at sunset at Upper Lead Mtn. Pond in Maine.
Chris owns a Cadet, Cavalry and Gunga Din model bugle.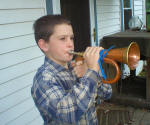 James D. of Steubenville Ohio Boy Scout Troop 401 practices on a Cavalry Copper and Brass Bugle.
James makes it a point to make sure the neighbors are never late to work.
By clicking the thumbnail, you can note how the copper and brass have that cool aged look on this bugle. It'll quickly shine up for any performance by using a copper and brass cleaner. However this is probably the effect you want if you're a re-enactor or simply want your bugle to have that classic bugle flavor. For those of you wanting an easier maintenance, you can consider our Chrome bugles.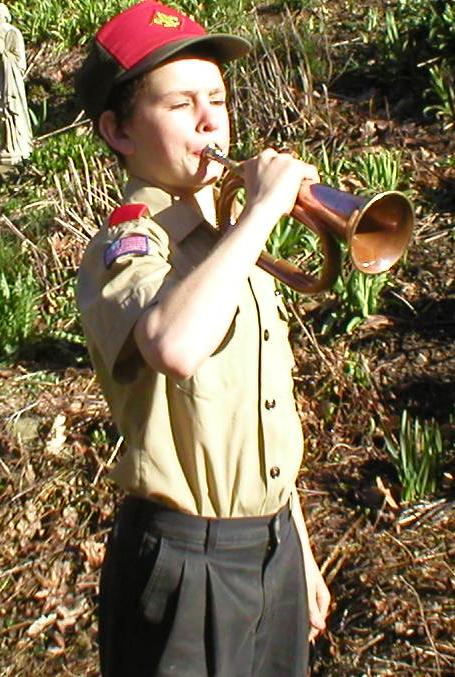 Here's an update of James picture sent a few years later! Click for enlargement! Still playing.
12-23-2004
Your "Gunga Din" bugle is, I believe, actually a reproduction closer to a British styled Army bugle. In actual fact, I have been in contact with a wholesaler in London, who purchases these Indian manufactured bugles for British army usage.

There are still British manufactures of this type of bugle (which can also be called the "Kent horn", so named for the Duke of Kent), to include Premier, Potters of Aldershot, Barratts of Manchester, and Boosey and Hawkes. They all basically follow the same pattern as the Gunga Din model, as seen on your site. Pocket versions of these bugles were manufactured during the First and Second World Wars, for easier transport and use on the front lines.

Bugles in the British army became honored symbols, and were intrinsically linked to the battalions and squadrons who fought in combat. I recently read one story where, rather than the sterling silver bugles belonging to one company falling into enemy German hands, buried all six of their bugles in the back garden of a French cottage, somewhere in Normandy. The search still goes on today in an attempt to locate the bugles and return them to their homeland.

Bugles have achieved the same status across the Atlantic in the U.S.--where the use of them in army and ceremonial settings, continue to stir the emotions, and recall a bygone age of communication through calls and tunes.

Adam L. Smith
1-10-05
Love my Cadet bugle so I am back for a Calvary model! Best wishes, Marion

1-10-05
Dear Scoutbugle.com

Thank you for supplying us with the bugle we ordered recently. We received the bugle last week.

My son is a scout and trombone player and now enjoys working on the bugle. This all started when I asked some other scout parents if they remembered having a bugle in their scout troop when they were kids. They all responded, yes. No one seemed to know why we do not seem to have bugles anymore. Thanks for supplying the bugle and thanks for setting up a great website dedicated to the bugle.

Aloha from Hilo, Hawaii and Troop 78.
10-26-04
I am a collector of Boy Scout bugles and am trying to learn as much as I can about the history of Boy Scout bugles. I see that your web site has a section labeled "Bugle History" that is "Under Construction." Would you be interested in exchanging information on the history of Boy Scout bugles?


I have Conn, King, and Rexcraft Official Boy Scout bugles, Official Boy Scout bugles with no manufacturer's name, and the 2001 National Jamboree bugle. I was pleased to be able to purchase on ebay a few weeks ago, a "Boy Scout" bugle manufactured by Lyon & Healy, Chicago. It has the words Boy Scout etched on the bugle. Under those words is a Boy Scout in uniform and below the Scout are the words Lyon & Healy Chicago. You can see the bugle at <dead Link> If you click on the photo you reach a larger image. This bugle does not say "Boy Scouts of America" or contain a BSA logo, so it is not an official BSA bugle. That leads me to believe that it was probably manufactured in the 1910s to capitalize on the popularity of the Boy Scouts before BSA clamped down on companies producing products labeled "Boy Scout."


Bruce Mc
12-11-04
When I was a scoutmaster I tried to persuade my scouts who played trumpet or
cornet to be our troop bugler and get the Bugling Merit Badge.  I was
unsuccessful.  I think your website could have helped me.  Now I am a Unit
Commissioner and will pass this help to the units in my district.

I started playing bugle when I was 14 or 15 and earned the Bugling Merit
Badge then.  I lived on a ranch in Wyoming and we had hired men who by
mother cooked meals for.  I practiced Mess Call when it was time to call the
hired men to eat. (I probably annoyed everyone on the ranch with about every
other call in the Merit Badge Pamphlet, too!)

Harold T 
Wolverine District
Grand Teton Council
-------------------------------------------------------------
11-16-04
Fred

Yessir, arrived yesterday. Today is his birthday. Will send a picture with
the info you requested from next Scout camping event.

We have avoided unwrapping it out of the bubble wrap. Great packaging! So
we are excited to see how it works too.

We'll see if he can blow a tune this evening :-)

Great service! Anywhere I should be posting feedback?

Thank you so much!

Mike
--------------------------------------------------------------------------------------------------
July 2007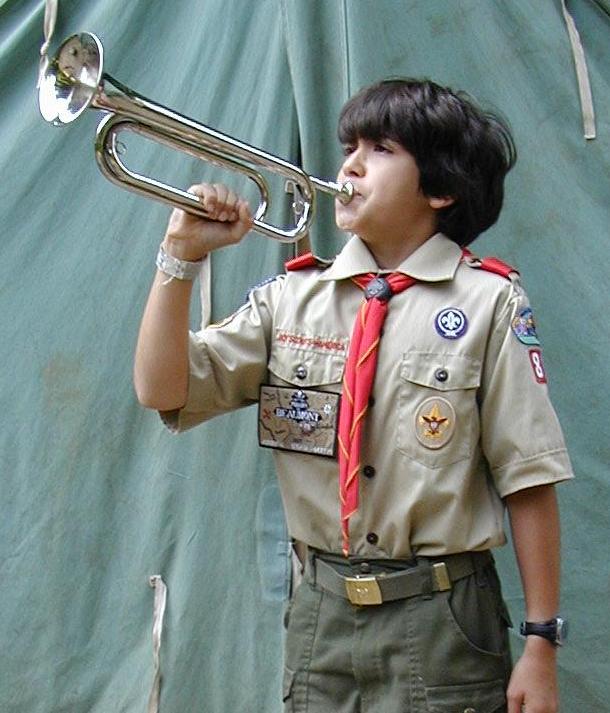 This is Greg D. of Troop 810 with his Chrome plated Cadet bugle.
We sent out the bugle by special order so he could have in time for summer camp (best if one orders a bugle EARLY). Click on the picture for a full enlargement.
-------------------------------------------------------------------------------------
Our Picture here is of Cliff Macke. He played the part of Teddy in Arsenic and Old Lace, at Community Theatre of Terre Haute (Indiana) in September, 2008.
"When I bought the bugle for our production of "Arsenic & Old Lace" you mentioned you would like a copy of a picture, if one was available. I hope this "forwards" alright -- the bugle was perfect, and we now have a new prop! Thank you again.
-Glenda Cordell
Community Theatre of Terre Haute (Indiana)

------------------------------------------------------------------------------------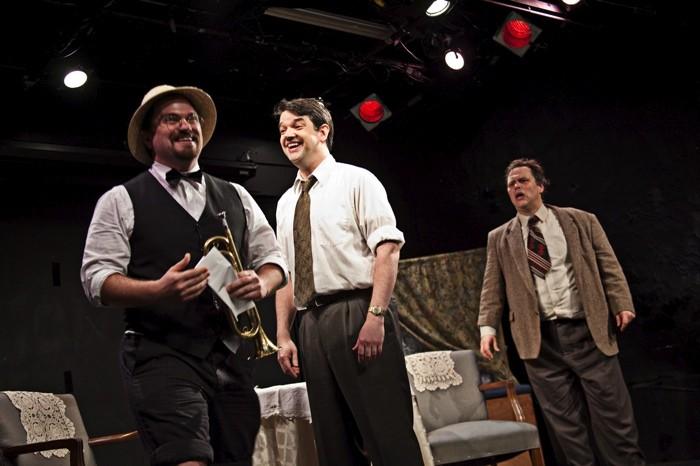 One of our Garage bugles as a prop in Arsenic and Old Lace.
"Thanks very much for the bugle! It's a great prop for Arsenic and I've actually gotten some pretty terrific sound out of it. Here's a picture from the production."
PETER SCHUYLER
Company Member
Dysfunctional Theatre Company
New York, NY
http://www.dysfunctionaltheatre.org/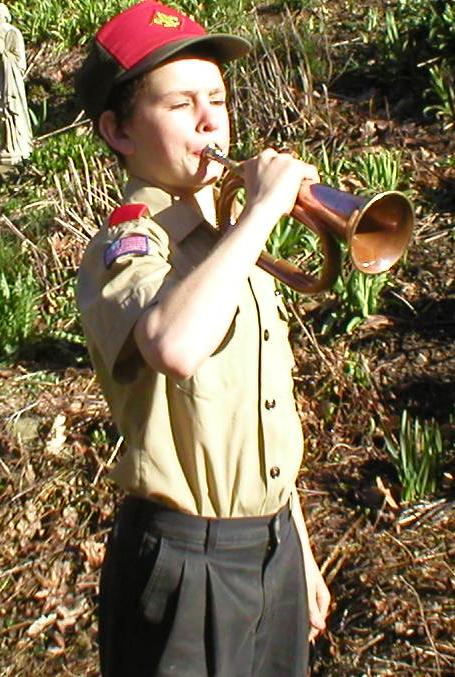 Here's James D. of Steubenville Ohio Boy Scout Troop 401.
He's been playing our Calvary bugle for several years before
this picture was taken. Click for full picture.
He has played at flag raising and
retirement at the last two summer camps and plays regularly for the
troop. He loves his bugle.
Please send comments, etc to: support
Copyright www.ScoutBugle.com 2004-2013